Quality Driven
CUSTOMER Focused
Quality Driven
Customer Focused
I bought my first "adult" watch at the age of 22. I had just begun my career as a wedding photographer and wanted a a better way to check the time than my smartphone. $95 later, Amazon Prime delivered my black minimalist watch on a black leather band. Over the next year, I wore that watch every day. The front crystal looked like it lost a fight with a blender, the strap smelled like week-old gym clothes and the watch finally gave out after I got caught in a Kansas rainstorm on my motorcycle.

Over the next 7 years, I spent a lot of time in the watch industry both grooming my passion as a collector and as a content contributor for several domestic and international brands. I was able to learn the ins and outs of manufacturing and built valuable relationships with production partners both here and abroad.
Finally in 2017, I had all of the pieces lined up to begin building our first prototypes. After 3 iterations of changes and over a year of waiting on updates, Dryden Watch Company officially launched in February of 2019 with all assembly done right here in Kansas City.
For us it's not about reinventing the wheel, but instead a simple pursuit of building watches from high quality materials and offering them at an honest price. In an era of disposable products, we hope our timepieces will keep up with you through life's every occasion and become a future piece of your family history.
Thank you for being a part of our journey.
Jerry Wang
Founder of Dryden Watch Company

Kansas City, USA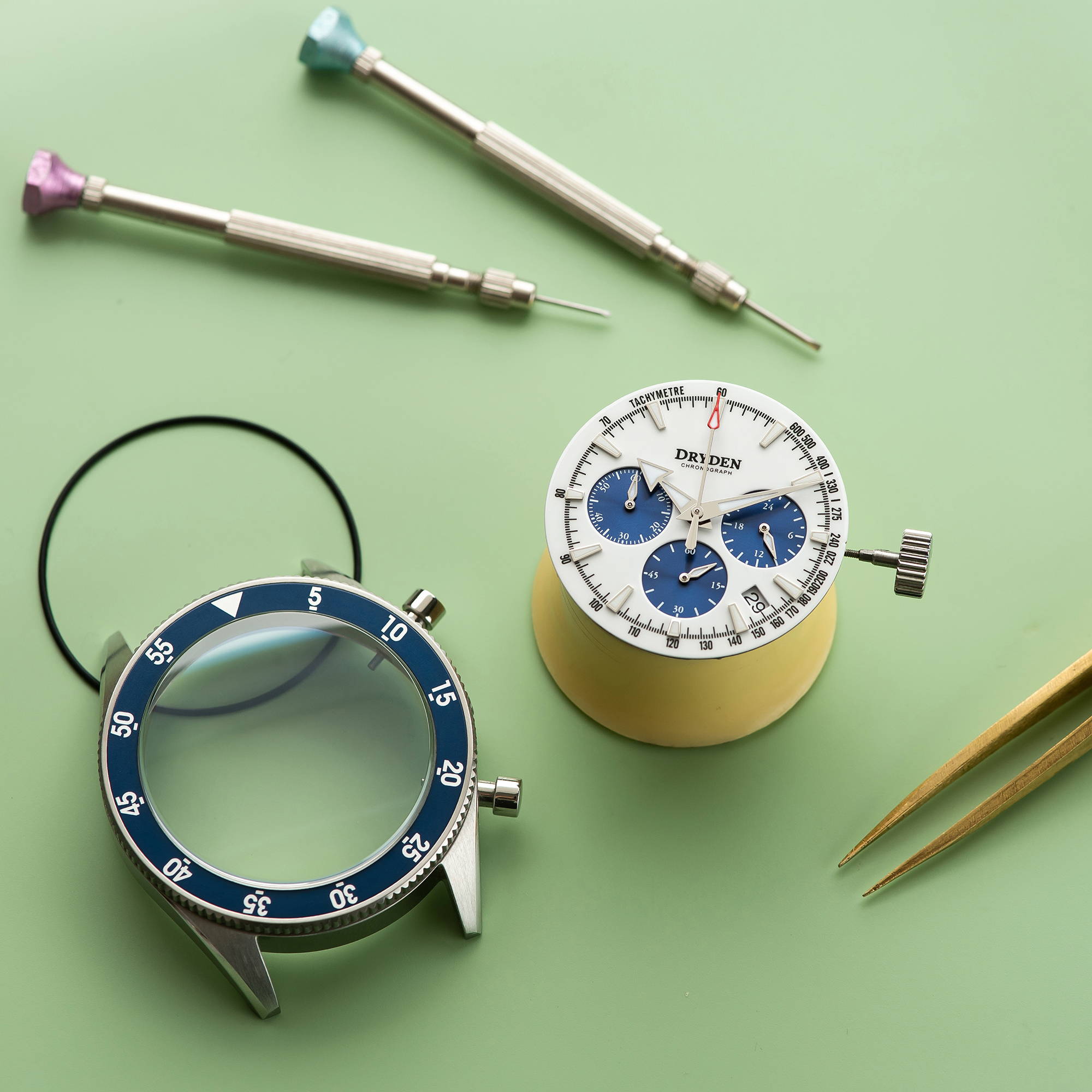 Quality Driven | Customer Focused
Small Batch Manufacturing
We produce each project in limited quantities to monitor every stage of manufacturing and stay responsive to customer feedback. Our watch technician hand checks the quality of each component, allowing for better consistency in our product delivery.

Our no shortcut approach focuses on using high quality and reliable components in our product design: thick scratch resistant sapphire crystal instead of mineral or acrylic, screw-down crown and double rubber gaskets to ensure water resistance, and Swiss Superluminova for visibility in all conditions.
In-house Assembly and repairs
All of our watches are currently hand assembled by our technician right here in Kansas City. It is then tested for accuracy and water resistance before being it is added to our inventory. We back our work with a two-year warranty and keep a steady supply of parts on hand for maintenance and repairs.